Norfolk Aeromodelers CL club
Today Bill & Joni Sequira and John Tate showed up at Fentress Naval Air Station to meet up with Garrett Sisk. Today is Garrett's birthday, (14 years old), and he wants to fly on his Birthday. Garrett came with his own support crew which included his mom, dad, little sister and his grandmother & grandfather.
We started by getting Bill Sequira in the circle with Garrett to explain what the stunt pattern is supposed to look like. Later on John Tate could tell from outside the circle that Garrett was getting more and more confident at the handle. We even got Garrett to fly a 1/2A powered model just to see how he dealt getting dizzy. Garrett did very well flying both models today.
Bill made a few flights on his electric powered Baby Flying Clown. The Baby Flying Clown is the perfect little airplane to keep in your car. You never know when the opportunity will come up to go fly a few laps. Everyone there enjoyed how quiet Bill's model was.
John Tate flew Willis Swindell's electric powered Vector 40 for a pattern.
Here is shot of the Super Flying Clown coming at you: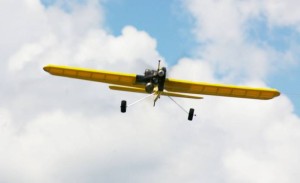 Here is Bill working with Garrett during one of the practice flights:
Here is Garrett with his support team: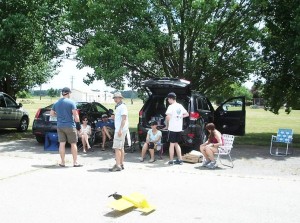 Today was a nice warm day to fly out at Fentress.