The Carolina Area Free Flight Association sponsors a fun fly the third Saturday of each month at the sod farm in Raeford, NC.  Here is a report on the last one from the club president:
"I have tried to think of a way to adequately describe the day. Lets see, WOW, great, fantastic, super duper - by now I think you may have the idea that it was a beautiful day to fly free flight!
Early morning was a little cool and the ground was still damp from the rain earlier in the week (no standing water). This soon changed to a very comfortable shirt sleeve day. Bright sunshine and a very high Carolina Blue sky soon dried the grass and provided an abundance of very gentle lift. There was a nice breeze (not really wind) blowing early which steadily DECREASED to almost nothing by noon. Absolutely no problem keeping models "on the field".
Notice I said no problem keeping models on the field instead of saying "in sight". In anticipation of our Blue Ridge Special one design contest coming up this spring, I brought a newly built B R Special to test and trim. Having progressed through several glide and low power trim tests it was time for a full power see what she would do flight. Well, 5 minutes and 59 seconds later I lost sight of her high over the northern side of the field. Still within the parameter of the field but out of sight vertically! Not caught in a big boomer but just slow lazy higher and higher circles. After the first minute or so I remember muttering "this one is not coming back" and hearing John chuckle and agree. We all had big grins on our faces. I never like to loose a model but I must admit I do enjoy watching something I've made doing what it is supposed to do and doing it very well. I completed building a replacement Blue Ridge Special Sunday afternoon and it is now ready for testing.
Richard Davison brought his Blue Ridge Special and a beautiful Big Cat Embryo. He had both of them flying very nicely. His Big Cat is impressive. I wish my tissue covering skills were as good as his!
The next scheduled fun fly is December 19, the weekend before Christmas. I know it is a very busy time of year and that December weather can be unpredictable, but I hope to see you there.
Wishing you all a very happy Thanksgiving,"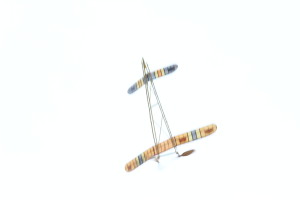 Jimmy Jordan