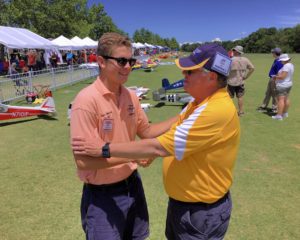 Connor Barnes, from Mooresville, NC was awarded a 2016 AMA Scholorship.  Jay Marsh, District IV VP made the award at the 2016 Joe Nall event.
Connor attends the University of North Dakota, and is pursuing a double major - Unmanned Aerial Systems and Commercial Aviation.
He began flying model aircraft at a young age with his father, eventually moving to IMAC competition, winning Southeast Region's Basic Pilot division at age 13; competed at the NATs twice, awarded the Best Senior Open Pilot award and 3rd place in the Advanced Division.
His school activities and community service include,  playing competitive soccer from ages 8 to 15.  Connor then had to make a choice between soccer and flying, choosing the latter.  He volunteers once month to organize athletic activities for younger children at a local community center, as well as assisting a local recycling program.
Connor volunteered as a youth referee for the local soccer, baseball and basketball seasons; coached the 9 year-old girls soccer team; presently selected for a paid internship operating a CNC router.
District IV is proud to have such an outstanding young man receive an AMA scholorship award.